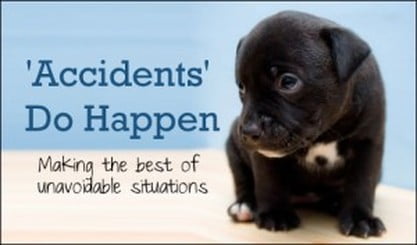 What can I do before calling a professional?
Stains that have been present only for a few hours can usually be cleaned with great success. To accomplish this, use a 50/50 solution of white vinegar and water. Follow up by blotting the stain with water only using a spray bottle. After this process, absorb the spot using clean colorfast towels until it is as dry as possible. Finally, place a half inch thick weighted layer of colorfast towels over the spot and let it sit overnight. The final procedure must not be overlooked, since urine residues left in the carpet are capable of reproducing odors during the warmer and more humid months.
Other Pet Stains
Like urine, the cleaning of pet vomit is based on expediency. First, you will need to remove as much of the matter as possible. Next, elevate the pH of the stained area. This step is important. To accomplish this, blot the area using a solution of one part non-sudsing ammonia to five parts water, and follow with blotting with a damp towel until as dry as possible. As with the method for cleaning urine stains, it is recommended to place a weighted layer of white towels folded a half inch thick over the spot overnight to allow residual matter to be absorbed into the towel.