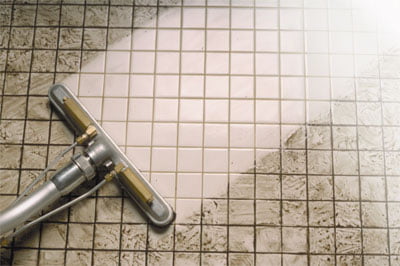 Purchase a good quality dust mop and sweep your ceramic tile floors daily. This is especially important in new installations where the grout has not fully cured. Dirt, mud, and sand tend to ground into the grout mortar from heavy foot traffic.
Many homeowners prefer the Swiffer type dust cleaning tools; however, we have noticed they soil the tile quickly by leaving a soapy film and residue. A dry dust mop or water dampened microfiber head attached to a Swiffer purchased from your local big box store (Home Depot, Lowe's) is a highly effective, green alternative.
Dirt collecting carpet mats should be placed in frequently used entrances and shaken out weekly. Our preference would be to choose 100% cotton mats, or ones without a rubber backing. The chemical reaction between the rubber and most floors will leave a yellow discoloration pattern that cannot be removed.
We do not recommend the use of floor waxes (such as Mop n' Glo and especially anything labeled "high gloss") as they can be difficult to remove from tile. As long as your floor is properly sealed and maintained, you should find no need for these products.
Shower stall and tub enclosures should have proper ventilation. Stagnant water breeds stain causing mildew as well as other fungi.
Many tile cleaners are acid based and their use should be limited. Always read the manufacturers label to find out. All acids, no matter how weak, will etch marble surfaces. In addition, avoid any cleaner that contains harsh abrasives (such as Comet, SoftScrub or even scrubbing sponges that will remove the protective sealant we apply).
Mop or sponge your tile down 2 to 3 times weekly. Mix 1 capful of dishwashing liquid per gallon of hot water. Mop up excess water and allow to dry. Buffing with a dry towel will help to reduce spotting.